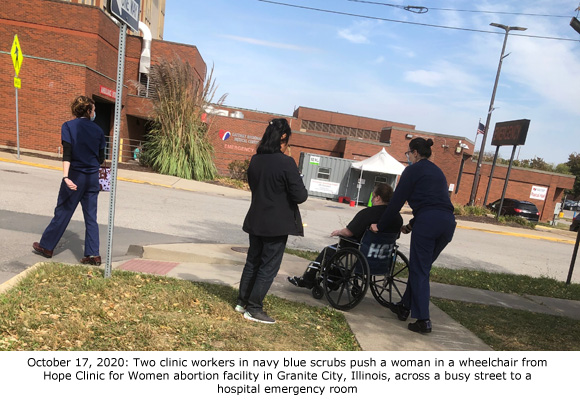 By Cheryl Sullenger
Granite City, IL — Two medical emergencies took place at the
Hope Clinic for Women
abortion facility in Granite City, Illinois in October that resulted in both women being transported to hospital emergency rooms – one in a very unusual way.
On October 17, 2020, pro-life activists were standing by outside the abortion facility to offer practical assistance to women seeking abortions at around 2:00 p.m., when two clinic workers in navy blue scrubs emerged from the facility pushing a woman in a wheelchair that was clearly marked with the abortion business' initials, HCW. The woman in the wheelchair was pushed across the street and into the emergency entrance of Gateway Regional Medical Center, which is located directly across 21st Street from the Hope Clinic for Women.
That incident may have violated patient standards of care. When anyone at an outpatient medical facility requires emergency room care, it is standard that an ambulance transfer the patient in order to maintain medical oversight, even when the medical facility is very near the hospital.  The transferring facility is liable for following interfacility transfer protocols and providing patient monitoring during the transfer.  Nowhere is it mentioned in the
Guide for Interfacility Transfer
published by the National Highway Traffic Safety Administration that wheelchair transfer across a busy street is ever an acceptable mode of safe transport.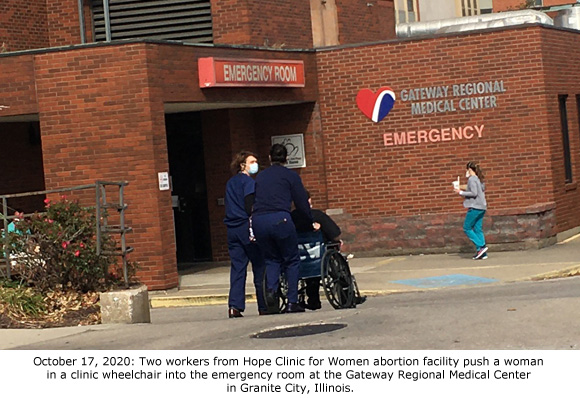 Second emergency
Two days earlier, on October 15, 2020, an ambulance was called to the Hope Clinic for Women for a woman who witnesses said appeared to be in pain and was in the seated position on a gurney with her knees pulled up toward her chest.  Instead of being transferred to the hospital emergency room closest to the abortion clinic, the ambulance sped away to an unknown hospital.  The entire incident took about ten minutes.
Two eye-witnesses provided Operation Rescue with written statements about what they observed.
One witness described the scene.
First, at about 11:39 this morning, [October 15, 2020] we saw an ambulance drive into the front of the Hope Clinic parking lot. Then, a few minutes later, we saw a young woman being wheeled out on a gurney through the front door of the clinic. She was sitting almost upright on the gurney. She was in what looked like a knee-chest position. From where we were standing on the sidewalk, her abdomen looked large, and her face very pale. She had no visible IV or oxygen, and nobody except the EMTs were with her.
The second eye-witness related additional information.
Her facial expression was angst, pain, despair — it's hard to describe.  There wasn't anyone with her other than the 3 EMT's.  I didn't see any cars leave the parking lot after the ambulance.  She appeared to be alone.
Operation Rescue sought to obtain public 911 records.  The Granite City Fire Department referred Operation Rescue to the police department for records, but the Granite City Police Department informed OR staff that there were no 911 records responsive to the request.
"It seems unusual, and maybe a bit suspicious, that there would be no 911 record for the October 15th emergency at Hope Clinic for Women, especially when we have easily obtained records for other medical emergencies at that facility," said Troy Newman, President of Operation Rescue.  "Unfortunately, no photos exist of the emergency, so it is difficult to know exactly which units responded."
So far this year, pro-life activists have helped Operation Rescue document four medical emergencies at the Hope Clinic for Women. Other incidents took place on March 25 and May 7, 2020.
Help document abortion abuses!
Operation Rescue urges all pro-life activists to photograph or video record medical emergencies they witness outside abortion facilities, so there is visual documentation of the incident.
"Since most people carry mobile phones that are capable of taking pictures, taking even a quick photo can really help in documenting the fact that women are being injured by abortions in greater numbers than the Abortion Cartel wants anyone to know," said Newman.
Operation Rescue has been tracking such incidents for about ten years, and has developed a database of hundreds of abortion-related medical emergencies.  This documentation has been used to support the passage of pro-life legislation, defend legislation in court, and bring disciplinary action against abortionists who are prone to injuring women.
If you have witnessed a medical emergency at an abortion facility, please contact Operation Rescue at info.operationrescue (@) gmail.com.  Please send us your photos* or video, the date and time of the incident, and a brief description of what you saw.
Hundreds of reports documenting medical emergencies at abortion facilities nationwide can be viewed at Abortion911.com.
__________
[*Pro-tip: If you are using a smart phone to take pictures, please turn the phone in the horizontal position (sideways) so the context of the incident can be better understood.  Vertical photos are better than nothing, but are like looking through a keyhole at a scene that often contains mostly sky and pavement.  -Thank you!]