By Cheryl Sullenger
Chicago, IL – Two emergency calls to 911 were made by a Chicago Planned Parenthood abortion facility in the space of less than four weeks, for women suffering very serious abortion complications.  This has heightened previous concerns about the apparent lack of patient safety and provider competence at this facility.
In the span of less than 18 months, eleven women have now been transported directly from Near North Planned Parenthood Center, located at 1200 North LaSalle Drive.  This also makes two in less than four weeks.
The Near North Planned Parenthood conducts surgical abortions up to 20 weeks gestation, or five completed months of pregnancy.
The two 911 recordings were provided to Operation Rescue by the Pro-Life Action League, which is based in Chicago.
Planned Parenthood placed a call to 911 on February 23, 2019, for a woman of unknown age who was suffering from a suspected uterine perforation during an abortion procedure.
Although the woman was apparently "not bleeding at all," according to the 911 recording, a uterine perforation is a serious abortion complication that has been known to cause internal hemorrhaging that may not be outwardly apparent.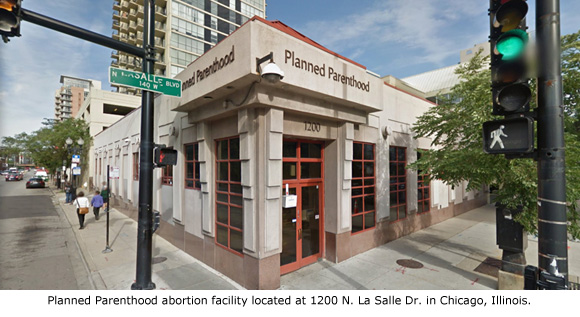 A second call was made on March 21, 2019, for another abortion patient that had uncontrolled vaginal bleeding after an abortion.  The woman was 23 years old.
According to the caller, the woman suffered an unknown condition that was too garbled to be intelligible on the recording in addition to "losing blood that, you know, we're a little bit concerned about."
When asked if a doctor or nurse was present with the patient, the caller replied, "Yes, we have two nurse practitioners here."
Apparently there was no licensed physician was present. It would have been considered a patient care violation to leave before she was stabilized.
"If a nurse practitioner conducted this botched surgical abortion, as appears likely, that would raise competency questions," said Operation Rescue President Troy Newman.
Hemorrhage is a common complication to surgical abortions, yet, Planned Parenthood seems unable and/or ill-equipped to treat this very-expected complication.
"The kinds of complications that take place at the Chicago Planned Parenthood tend to be life-threatening in nature," said Newman, whose organization tracks medical emergencies that routinely take place at abortion facilities nationwide. "We are only seeing a small fraction of abortion complications at the abortion clinics themselves, but what we are seeing is very troubling."
The Near North Planned Parenthood abortion facility is averaging one patient emergency transport for hospitalization every 6.5 weeks – not very good odds for the average woman who may not be aware of Planned Parenthood's dismal safety record.
Here are other incidents that have been documented by Operation Rescue with the help of the Pro-Life Action League:
October 6, 2018: A teenager suffered uncontrolled hemorrhaging and vomiting after an abortion that required emergency transport to a nearby hospital.
September 11, 2018: A patient suffered a "really bad" panic attack after an abortion with which the Planned Parenthood medical staff could not cope. Emergency assistance and transport were required to help the patient.
 
September 5, 2018: 28-year old woman needed an ambulance for post-abortion procedure bleeding that could not be controlled.
July 27, 2018: A 30-year old woman suffered uncontrolled vaginal bleeding after an abortion.
July 5, 2018: A 35-year old woman was transported to the hospital after hemorrhaging due to lacerations of her cervix and/or uterus. Efforts by the Planned Parenthood abortionist to stop the bleeding were unsuccessful.
February 27, 2018: A 32-year old woman was said to be "not as responsive as we like her to be" after an abortion.
February 3, 2018: A 26-year old woman was experiencing "heavy, excessive bleeding" after an abortion and required emergency medical care.
November 16, 2017: A 20-year old woman suffered seizures after an abortion and needed to be transported to the hospital for further care.
October 4, 2017: A 35-year old woman required emergency transport after an abortion for bleeding "more than normal."
In 2012, Tonya Reaves, 24, died after receiving a botched second trimester D&E dismemberment abortion that some think was done at the LaSalle Planned Parenthood. She bled internally for 5 1/2 hours before an ambulance was called, but by then, it was too late to save her life. Planned Parenthood settled a lawsuit filed by her family for $2 million.
"When Planned Parenthood says abortion is safe, it is Fake News. Any woman who walks into this Planned Parenthood – or any other abortion facility, for that matter – is taking a risk that they will never walk out," said Newman. "The frequency of life-threatening abortion complications that result in hospitalization or death at this Chicago Planned Parenthood facility is alarming and should be intolerable.  It should be closed immediately in the interest of public safety."