By Cheryl Sullenger
Tempe, AZ – There were tense moments on the street between pro-life and pro-abortion supporters as a fire unit followed soon by an ambulance arrived at the Planned Parenthood abortion facility in Tempe, Arizona, on April 1, 2017.
A group of Christians with Apologia Radio were on site praying and offering assistance to abortion-bound women – and filming live on Facebook – when the incident occurred at about 9:00 a.m.
Gospel preachers could be heard competing with a raucous group of pink-shirted abortion supporters blaring music and waving umbrellas as one pro-life man reported the events live on video.
"Okay, guys. We are outside of Planned Parenthood right now in Tempe," the pro-life activist reported. "I don't know if you guys have been keeping track, but it's a ruckus out here right now. Planned Parenthood supporters are out in full effect and playing loud, loud music."
As the ambulance pulled up, those filming were blocked by pink-shirted Planned Parenthood "escorts" who waved placards and umbrellas in front of the camera.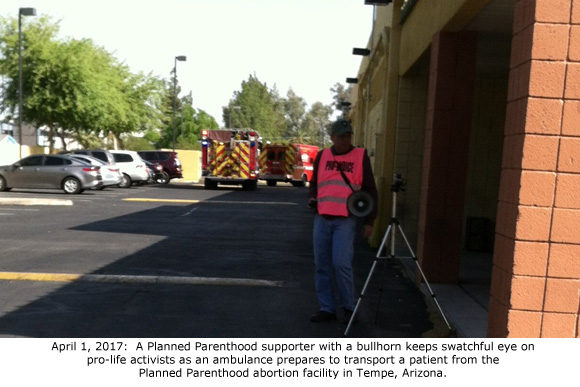 "This is unfortunately, sadly, the consequence of Planned Parenthood," the activist continued, referring to the medical emergency that was in progress.
"It's been kind of a crazy morning. Very loud. Very aggressive. But out back right now, we just had the EMTs – Fire Department pull up. Obviously, something happened inside, but we don't know what," the pro-life man reported.
"If you guys could be here right now and hear just the atmosphere, it's crazy," he continued. "There's a temperature here in terms of their commitment to fight against us. It's just rambunctious, rowdy, intense."
As he was speaking, the Planned Parenthood supporters swarmed in front of the camera to prevent the Christians from broadcasting the unfolding drama.
After about ten minutes, the gurney emerged from the back door of Planned Parenthood.
"She had a sheet over her head," the pro-life reporter said. Another man remarked that the scene evoked the striking image of a dead body being removed, although he emphasized that they were not saying it was a dead body.
As the patient was loaded into the ambulance, the camera was mobbed by Planned Parenthood supporters, who employed their signs and umbrellas to continue to block the camera. The pro-lifers continued to ask viewers to pray for the person suffering the emergency.
Soon, the patient was transported away from the scene.
This was the fourteenth documented medical emergency at a Planned Parenthood abortion facility in the first 90 days of 2017.
"We thank the bold activists who documented this incident under very trying conditions," said Operation Rescue President Troy Newman. "They did a great job of showing what they called the true face of Planned Parenthood."
"While abortion supporters shrug off and downplay such medical emergencies, for those fifteen women, their pain is very real and life-altering," Newman continued. "While the Planned Parenthood folks in the video appeared apathetic to the patient's suffering, it is compassion and love for women and their babies that drives the pro-life movement to press on in the face of adversity toward the goal of ending the barbaric practice of abortion in this nation."