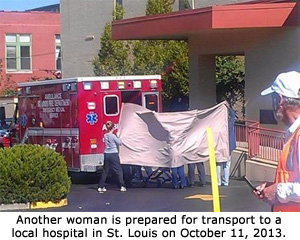 By Cheryl Sullenger
St. Louis, Missouri – Ambulances were photographed at abortion clinics in St. Louis, Missouri, and Montclair, California, on Friday October 11, 2013, by quick-thinking pro-life supporters. These incidents reinforce the safety crisis that exists at abortion clinics across America.
In St. Louis, a woman was removed from the Planned Parenthood abortion clinic where 22 previous medical emergencies were documented. Abortion clinic staff deployed the "sheets of shame," a large canvass meant to prevent pro-life activists from documenting abortion injuries there.
Mary Maschmeier of Defenders of the Unborn noted that the ambulance arrived at about 2:00 p.m. emergency workers rushed into the abortion clinic with what appeared to be more equipment than usual.
"Within minutes, the ambulance crew wheeled out a Caucasian woman on a stretcher. Because her right arm was hanging down and away from the stretcher, she appeared to be unconscious," said Maschmeier.
"The abortion mill staff tried hiding her from the public with a large tarp/blanket, but when they made a turn on the ramp you could see that they had completely covered her body, especially her head. She appeared to be in serious condition. As soon as they had her in the ambulance, they turned on the siren and sped off to an unknown hospital".
Meanwhile, on that same day in Montclair, California, emergency workers attended a woman at the Family Planning Associates (FPA) abortion clinic for several minutes before whisking her off to a nearby hospital emergency room.
The incident was caught on video by Kirk Bauer during his 40 Days For life shift at that clinic. He noted that rosary beads hung from the rear-view mirror of the woman's vehicle.
Activists have documented other medical emergencies at this Montclair FPA abortion clinic over the years, including one in June, 2006, where the abortionist was using an assumed name.
"We can only expect more seriously injured women now that California Gov. Jerry Brown has signed new legislation that will allow non-physicians to conduct surgical abortions in that state. These non-physician abortions have twice the complication rate, and are done by nurses, mid-wives, and nurse practitioners who are not equipped or trained to cope with serious complications," said Troy Newman, President of Operation Rescue. "Certainly lowering standards of care for women in a state already known for more than its fair share of incompetent abortionists shows a complete disregard for human life. Women will die because of these shoddy abortionists. We just wonder how high the body count must get before this horrific law is repealed."