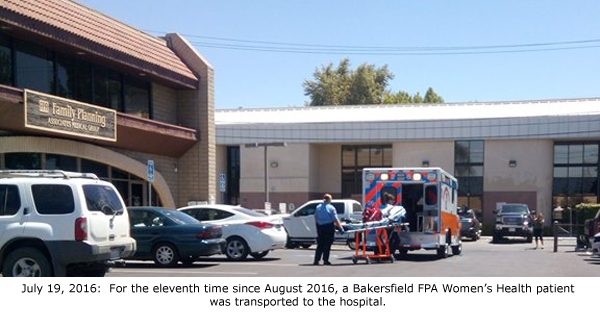 By Cheryl Sullenger
Bakersfield, CA – For the eleventh time since August 2012, an ambulance was called to provide emergency care to a patient of FPA Women's Health in Bakersfield, CA. The incident took place on July 19, 2016. The woman was transported to a nearby hospital for care.
This FPA abortion center is part of a chain of 22 abortion facilities located throughout California. It hospitalizes a woman due to abortion complications on average every four months. This latest incident occurred just over four months after the last FPA patient was hospitalized on February 23, 2016.
Abortionist Alexander Simopoulos was on duty during the July 19 medical emergency. When confronted later about the incident by long-time pro-life activist Terri Palmquist, Simopoulos taunted Palmquist to "prove it."
Today, Terri's husband, Tim Palmquist released a photo that showed a patient on a gurney being loaded into an ambulance outside the FPA abortion facility on the day of the incident. Operation Rescue has requested 911 records to further document the emergency.
Simopoulos is a Beverly Hills based cosmetic surgeon who specializes in female genital cosmetic surgery, vaginal reconstruction, and other plastic/cosmetic surgeries for celebrities and others. He has appeared on reality television shows such as Bravo's Millionaire Matchmaker, where he confessed that he views women as sex objects.
An article researched and penned by Tim Palmquist explains that women Simpoulos met on the Bravo show considered him "Dr. Freak," "creepy," "gross," and "Dr. Frankenstein." One woman was so appalled by his behavior that she warned, "women of the world, stay away!"
"Thanks to the Palmquists, we have documented the alarming frequency that abortion injuries are taking place at the Bakersfield FPA. This documentation is evidence that Simpoulpos is not fit to practice medicine. If the California Medical Board won't take action to protect the public from his obvious incompetence, we urge FPA Women's Health fire him immediately," said Troy Newman, President of Operation Rescue.
Read why FPA is considered among the six most dangerous abortion businesses in the U.S.
[Note: This version has been corrected.]