Providence, RI – An ambulance was called on June 11, 2019, for a 21-year old African-American woman who suffered a perforated uterus during an abortion at the Providence Health Center Planned Parenthood in Rhode Island.
A perforated uterus means that a hole was torn through the uterine wall and into the abdominal cavity.  It is a potentially life-threatening abortion complication that can cause severe pain, hemorrhaging, internal bleeding, infection, and death.  Perforations have been known to also damage other organs inside the abdomen, including bowels, arteries, the bladder, and ureters.
The extent of the damage caused by this woman's perforation is unknown.
The Providence Health Center Planned Parenthood conducts surgical abortions up to 19 weeks gestation.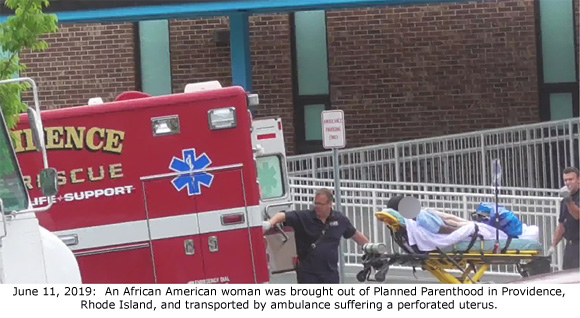 Pro-life activists, who were on the street outside the abortion facility to offer practical help to abortion-bound women, documented the incident with photos and video.
The woman was brought out of Planned Parenthood on a gurney and loaded into an ambulance, which waited in the facility's parking lot until all traffic had passed before pulling out into the street.  It was only then that the ambulance began to use its sirens to clear traffic.
The following week, two pro-lifers who witnessed the event submitted photographs of the emergency and affidavits under the names "Jane Doe" and "John Doe" to the Rhode Island Senate Majority Leader Dominick J. Ruggerio. Those documents were accompanied by a cover letter from attorney Jane E. Brockmann, voicing concerns over patient safety at that Planned Parenthood abortion facility and citing the website Abortion911.com for more examples of abortion injuries to women.
Ruggerio, a Democrat who claims to be "pro-life," essentially ignored the evidence and patient safety concerns presented by Brockman.
Just a month earlier, Ruggerio had allowed the Reproductive Privacy Act to advance for a vote stating, "I am pro-life, but I made a determination not to impose my personal views on the members of the committee. I did not interfere with the committee review process or attempt to influence the outcome. Should the bill come to the floor, I will vote in opposition to it."
Ruggerio kept his word and later voted against the measure, but his lack of leadership allowed the bill to pass the full Senate with a vote of 21-17.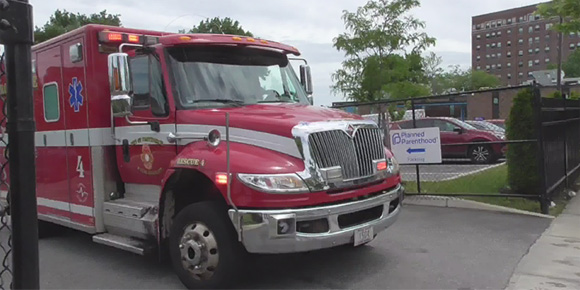 On June 19, 2019 – just eight days after the young woman was rushed from Planned Parenthood to a hospital emergency room with a hole torn in her uterus – Rhode Island's Democrat Governor Gina Raimondo signed the Reproductive Privacy Act into law.
That law prohibits the state and any of its agencies from preventing a woman from obtaining an abortion prior to viability.  The state also cannot interfere with a woman aborting a viable baby for "health" reasons, which can mean almost anything.  It also relaxed medical standards for abortion facilities.
In addition, the law abolished several existing abortion-related laws.
Eliminated mandated care for babies born alive during abortions.
Eliminated informed consent for abortions.
Eliminated a ban on partial birth abortions, which are illegal on the federal level.
Eliminated a ban on experimentation of human fetuses.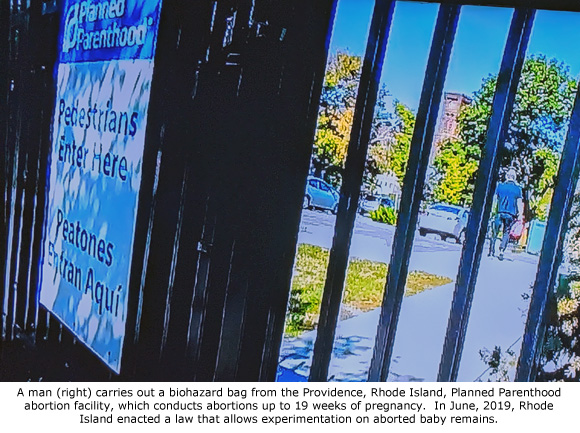 Since the ban on experimentation using aborted baby tissue and organs was lifted, pro-life activists have witnessed weekly pickups of small red biohazard bags from the Providence Planned Parenthood facility. The bags are placed in private vehicles and transported to unknown facilities.
These bags — which may or may not contain fetal tissue — are too small to contain aborted baby remains collected from a full week of abortions. This raises questions about whether Planned Parenthood is back in the organ trafficking business — or even if they ever really left it.
"Liberalizing abortion laws and reducing the authority of the state to conduct oversight of abortion facilities creates a perfect storm for disasters like the one seen at Planned Parenthood on June 11," said Troy Newman, President of Operation Rescue.  "When New York enacted a similar law in January, we saw the floodgates open on abortion complications at the Margaret Sanger Planned Parenthood facility in Manhattan.  We expect to see a similar increase in medical emergencies in Rhode Island as a result of the passage of its irresponsible new law."