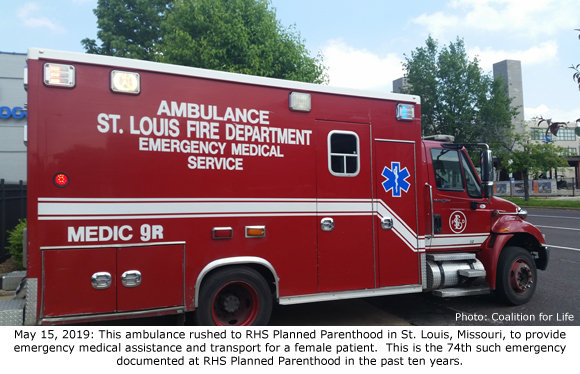 By Cheryl Sullenger St. Louis, MO — It's called the most dangerous abortion clinic in America – with good reason — and once again, the Reproductive Health Services Planned Parenthood abortion clinic in St. Louis, Missouri, has lived up to that name. For the third time in three weeks (22 days) an ambulance has responded to a medical emergency at that Planned Parenthood facility, which is the only abortion clinic in the state. According to a local pro-life group, the Coalition for Life, on May 15, 2019, at approximately 2:55 p.m., an ambulance rushed to the RHS Planned Parenthood with flashing lights and blaring sirens. "Fifteen minutes later, the paramedics wheeled their stretcher down the ramp, laden with a prone woman totally strapped in and not moving. After they pulled out, the abortionist left the facility and followed after the ambulance," the Coalition for Life noted in an e-mail. The abortionist on duty that day was reportedly
Tessa E. Madden
, who formerly served as the medical director at this facility in 2011. Other recent medical emergencies occurred at RHS Planned Parenthood on
April 24
and
April 26, 2019
. Over the past ten years, there have been
74 documented medical emergencies
at this abortion clinic. The most common complication suffered by abortion patients at this Planned Parenthood facility is
hemorrhage
, which is a potentially life-threatening condition that is indicative of serious internal injury. "Abortion numbers are down at this troubled abortion facility, yet medical emergencies are up.  That means women who submit to abortions at this Planned Parenthood clinic are in more danger than ever before," said Operation Rescue President Troy Newman, whose organization tracks and documents medical emergencies at abortion facilities around the nation. "RHS Planned Parenthood poses intolerably high risks to women.  We urge the Missouri Department of Health and Senior Services to close this clinic on an emergency basis and launch a full investigation into its obviously substandard patient care and safety practices." RHS Planned Parenthood conducts only surgical abortions, since it could not meet the licensing requirements for the dispensing of abortion-inducing drugs. As previously reported, the RHS Planned Parenthood has experienced major issued in the past year or so:
CEO Mary Kogut resigned last October and has not been replaced.  Postings for a new Medical Director and several other positions also remain unfilled.
Inability to conduct medication abortions due to failure to meet new safety regulations.
Failure to expand abortions into Springfield and Joplin as planned, due to inability to meet licensing requirements.
Dramatic decrease in the number of abortions done, at RHS Planned Parenthood, (as reported by Missouri pro-life supporters), adding to financial woes.
Up to a 20-day wait to obtain surgical abortions, as confirmed by Operation Rescue, perhaps because the current medical director is moonlighting at an abortion clinic in Illinois.
Failed inspection report in 2017 with multiple safety violations, and where the Medical Director questioned whether hand-washing between glove changes was a new standard.