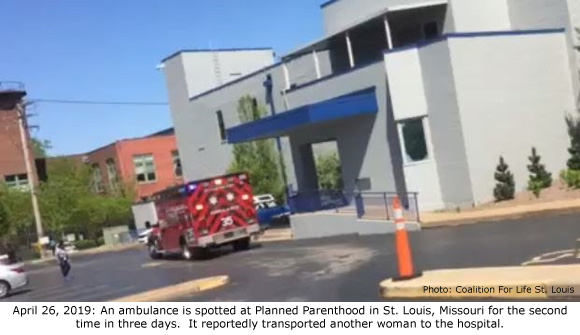 By Cheryl Sullenger St. Louis, MO – Without the use of lights or sirens, an ambulance quietly rushed to Reproductive Health Services Planned Parenthood in St. Louis, Missouri, yesterday, to care for yet another injured woman who appeared to have suffered abortion complications. The incident is the
second time
in three days that an ambulance has transported a RHS Planned Parenthood patient to the emergency room.  This represents the seventy-third medical emergency documented at this abortion facility – the only one in Missouri – in the past ten years. "RHS Planned Parenthood is averaging over seven injured women every year.  And this doesn't count the women who suffer complications after they leave the facility. With abortion number dropping and ambulance incidents increasing in frequency, this abortion business poses unacceptable dangers to women," said Troy Newman, President of Operation Rescue.  "We call on the Missouri Department of Health and Senior Services to investigate Planned Parenthood's obvious failure to maintain patient care standards and safety." Late yesterday, the Coalition For Life St. Louis posted a photo of an ambulance outside the RHS Planned Parenthood abortion facility with details of the incident, which occurred at 2:30 p.m. on April 26, 2019: The paramedics were inside for over 10 minutes before bringing out the patient on a stretcher. With face blocked from view, it was impossible to tell if the victim was even conscious. According to
documentation
obtained by Operation Rescue, hemorrhaging is by far the most common surgical abortion complication experienced by women who are transported by ambulance from RHS Planned Parenthood. RHS Planned Parenthood has had major issues over the couple of years.  Those include:
CEO Mary Kogut resigned last October and has not been replaced.  Postings for a new Medical Director and several other positions also remain unfilled.
Inability to conduct medication abortions due to failure to meet new safety regulations.
Failure to expand abortions into Springfield and Joplin as planned, due to inability to meet licensing requirements.
Dramatic decrease in the number of abortions done, at RHS Planned Parenthood, (as reported by Missouri pro-life supporters), adding to financial woes.
Up to a 20 day wait to obtain surgical abortions, as confirmed by Operation Rescue, perhaps because the current medical director is moonlighting at an abortion clinic in Illinois.
Failed inspection report in 2017 with multiple safety violations, and where the Medical Director questioned whether hand-washing between glove changes was a new standard.
"RHS Planned Parenthood's frequency in the number of ambulances that transport patients is a huge public safety concern," said Newman.  "It should be immediately shut down until a full investigation into the unsafe practices."