By Cheryl Sullenger
St. Louis, MO – In response to an open records request, Operation Rescue has obtained a list of EMS calls placed from the Reproductive Health Services Planned Parenthood abortion facility in St. Louis, Missouri, between November 5, 2016 and November 15, 2018.
The list was released by the City of St. Louis City Counselor's Office on January 3, 2019 — two full months after the request was made.
The list, which contained no specific dates per incident, revealed the reasons for each call. In all, of the nine incidents listed, seven involved patient-related medical emergencies. Assistance was dispatched in all seven patient cases with a Priority One Urgent Response, which indicates a very serious emergency.
The seven medical-related "problems" listed as reasons for the 911 calls included the following:
Abdominal Pain Female Fainting
Fainting Alert <35 No Cardc Hx [Under 35 years old with no cardiac history]
Hemorrhage Dangerous
Hemorrhage Not Alert
Hemorrhage Possibly Danger*T
Hemorrhage Serious*M
Sick Unknown Status
Hemorrhage is the most common complication at the RHS Planned Parenthood abortion facility, according to this and previous records obtained the City of St. Louis officials.
"The Planned Parenthood abortion clinic in St. Louis is one of the most dangerous abortion facilities for women in the U.S. They have sent at least 70 women to the hospital suffering serious abortion complications in the past nine years or so, said Troy Newman, President of Operation Rescue. "There is a history of deception, concealment of information from the state legislature, and failed inspection reports. It is a disreputable abortion clinic that should be shut down in the interest of public safety."
Operation Rescue had documented six medical emergencies – one less than indicated by St. Louis city officials – that were reported by local pro-life activists during that same two-year time frame. They are posted at OperationRescue.org and on the new site Abortion911.com.
Those previously documented incidents are as follows:
Observations about ambulances running without lights and sirens may be significant. In 2017, the Missouri legislature passed a law that makes it a crime for an abortion facility employee to request that an ambulance run without lights and sirens because silent running actually delayed travel time for emergency vehicles, and that results in delays in patients receiving emergency care.
The new information reveals at least one — and perhaps as many as three — previously undocumented medical emergency at RHS Planned Parenthood. The two previously documented incidents involving the private Abbott EMS ambulances may not be reflected on the City of St. Louis call sheet. When abortion facilities bypass the 911 exchange and directly call private ambulance companies, those calls will not show up in the 911 exchange records.
In 2013, Operation Rescue sued the St. Louis Fire Department for public records related to 911 calls at RHS Planned Parenthood. In 2016, the Fire Department reached a settlement with Operation Rescue in which they agreed to supply information about the nature of the emergencies in requested date ranges.
The first disclosure revealed 58 emergency calls placed by RHS Planned Parenthood from January 1, 2009 and April 4, 2016 – 50 of which were Priority One Urgent Responses with hemorrhage being the most common cause of ambulance requests.
Later, Operation Rescue received two rare typed transcripts of 911 calls made by RHS Planned Parenthood between April 5, 2016 and November 4, 2016. Those transcripts showed that Planned Parenthood employees dangerously withheld information from 911 dispatchers to keep it from ending up on "the web-site," which was an apparent reference to OperationRescue.org.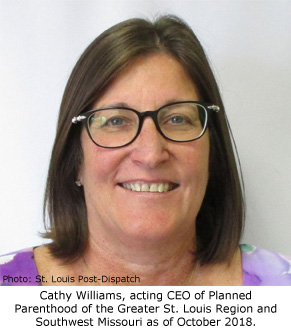 The RHS Planned Parenthood abortion facility is the last remaining abortion facility in Missouri. However, it has struggled to comply with health and safety standards and has recently experienced a decrease in abortion patients.
But their troubles don't end there. Mary Kogut, Chief Executive Officer of Planned Parenthood of the St. Louis Region and Southwest Missouri, which operates the RHS Planned Parenthood, suddenly announced her resignation in October 2018, which was effective at the end of that month. The organization is currently being led by acting CEO Cathy Williams, who also has affiliations with the Missouri chapter of the radical National Organization for Women. No permanent replacement has yet been found.
There are indications that the overall leadership at Planned Parenthood of the St. Louis Region and Southwest Missouri and their RHS Planned Parenthood abortion facility is in a state of flux. It has posted job openings for upper level financial positions, including an Accounting Manager and Major Gift Officer. Other openings include positions such as Health Center Manager and several other patient care positions at the St. Louis abortion clinic.
"Planned Parenthood is a dangerous abortion business in Missouri that is experiencing many high-level personnel changes," said Newman. "It is an indication that all is not well there, and when there is confusion and uncertainty at abortion facilities, it usually manifests in abortion mistakes that send women to the hospital. Needless to say, we will be monitoring this situation carefully."